An Cala,  meaning 'the haven' in Scottish Gaelic, is a three-bedroomed house which accommodates six people in the beautiful conservation village of Port Charlotte on the shores of Loch Indaal in the Rhinns of Islay
With clear sea views towards the south-east, An Cala is the perfect holiday retreat for families, birdwatchers, artists and anyone who enjoys stunning tranquil landscapes with the constantly changing visual drama of light on water.
An Cala self-catering holiday cottage sits very near the sea shore in Port Charlotte, on Islay's sheltered Loch Indaal. With its open sea views, fresh air and the constant gentle sound of waves lapping the shore, a holiday spent at An Cala is the perfect antidote to an often rushed and noisy world.
The pace of life in Islay is gentle, and the friendly, whitewashed Georgian village of Port Charlotte is a perfect base for your holiday, close to stunning and often deserted beaches, to Islay's eight distinctive Scotch whisky distilleries  and to many of the island's fascinating historic and archaeological sites.
An Cala sits right on the sea front near Port Charlotte's small pier and sandy beach.  With luck, from the kitchen window you  may spot seals, dolphins, otters and some of the wide range of sea birds for which Islay is famous.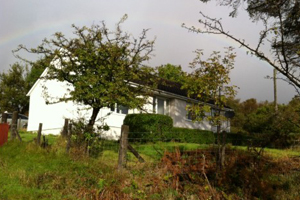 If you want to visit Jura, why not try Braeside, our delightful self-catering house in the village of Craighouse.
For more details on Braeside, please click on the photo to go to the website.